Game Booster
PC Game Booster is one of the latest module of Net Protector Antivirus which will enhance your PC gaming experience.
This module will enable your games to run at a higher speed while consuming optimum system resources.
Enjoy gaming experience with NP Game Booster
Data Sheet
Buy Now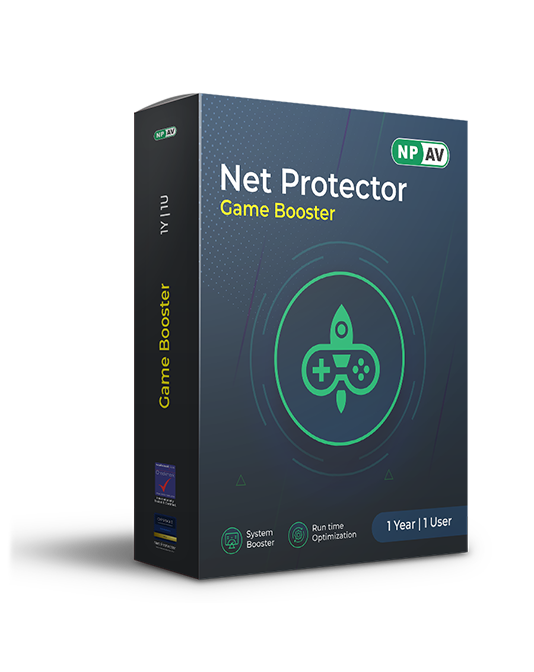 Service
Our Features of
Game Booster.

Clean Data, Cache & Cookies
Tunes up the system extensively by removing unnecessary resource data, cache and cookies.

RAM Boost
Your computer uses random access memory (RAM), a crucial and quick form of short-term storage, to keep active data. PC Game booster ensures that this memory is sufficiently assigned to gaming applications without slowing down other processes.

Process Booster
PC Game Booster enhances and boosts processes categorized as games. These processes are handed optimum resources and priorities during execution.

Run time Game Optimization
When a game is running, it is given the first priority for system resource allocation. This results in an optimized and enhanced gaming experience.

CPU, Memory, GPU
NPAV's PC Game Booster monitors and optimizes CPU, GPU and RAM to speed-up and smoothen the gaming performance of your PC. GPU optimization ensures that FPS (Frame Per Second) is provided at its highest capacity without lending too much load.

Ultra Mode
Increase your gaming performance with a single tap by enabling Ultra Mode. Automatically boost CPU, GPU and various other gaming-related components which ensure best gaming performance.

Loading game list directly & manually
It provides a preset list of games from our library. If a user wishes to manually add any games which are out-of-date or not yet present in our library, they can do so easily by using PC Game Booster.

System Performer Booster
Streamlines games and software to make your PC gaming-friendly. Uses Game defragger to enhance gaming quality exponentially.

Boost Plus
Game Booster provides an option which allows users to monitor software requiring large memory and resources.Applying this special setting can boost your PC's performance by 10x.
By monitoring how the game runs on your device & your usage, Game Booster uses data about the temperature & memory to automatically adjust your settings to give you the best experience.
By addressing game lag issues in heavy titles. It can change the RAM, CPU, and GPU settings in the application to improve system performance.
The Cache and memory are cleaned by the system as soon as the Game Booster Mode is turned on so that users get the maximum memory required to run the game.
Loved and trusted by over 1k+ users!
Over the last few years, podcasts have become a huge deal. They've taken on a growing role.
876

Happy Clients

156

Projects

430

Trusted Users



Boost Your Own PC / Laptop
With Our Products
Click Below Button to download Game Booster.
Download
Looking for enterprise
solution.
We've taken on a growing role Over the last few year.
Contact Us